We are founded by GLOBALLY RECOGNIZED EXPERTS
The founders of Autism Partnership are current world-renowned authorities in the treatment of autism. Their quality standards and high expectations are aspirations of all fellow practitioners. Having contributed significantly to seminal works including books, research publications, and scientific conferences since the 1970s, they also provide consultations to school districts and families worldwide.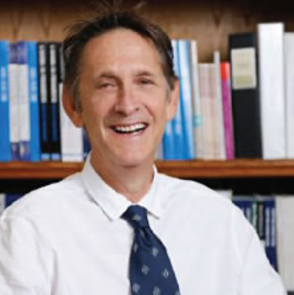 Dr. Ronald Leaf is a licensed psychologist who has over forty years of experience in the field of autism. Dr. Leaf began his career working with Professor Ivar Lovaas, while receiving his undergraduate degree at UCLA. Subsequently, he received his doctorate under the direction of Prof. Lovaas. During his years at UCLA, he served as Clinic Supervisor, Research Psychologist, Lecturer and Interim Director of the Young Autism Project. He was extensively involved in several research investigations, contributed to "The Me Book", and is a co-author of "The Me Book" Videotapes, a series of instructional tapes for teaching autistic children.
Dr. Leaf has consulted to families, schools, day programs and residential facilities on a national and international basis. Dr. Leaf is also the Executive Director of Behavior Therapy and Learning Centre, a mental health agency that consults with parents, care-providers and school personnel. Dr. leaf is co-author of "A Work In Progress", "Time for School", "It Has to Be Said", "Crafting Connections" and "A Work In Progress Companion Series".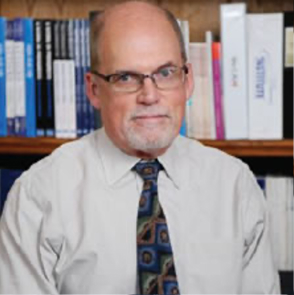 John McEachin is a licensed psychologist who has been providing behavioral intervention to children with autism as well as adolescents and adults with a wide range of developmental disabilities for more than forty years. He received his graduate training under Professor Ivar Lovaas at UCLA on the Young Autism Project. During his 11 years at UCLA, Dr. McEachin served in various roles including Clinic Supervisor, Research and Teaching Assistant, and Acting Director. His research has included the long-term follow-up study of young autistic children who received intensive behavioral treatment, which was published in 1993.
In 1994 he joined with Ron Leaf in forming Autism Partnership, which they co-direct. In 1999 they published A Work in Progress, a widely used behavioral treatment manual and curriculum for children with autism. Dr. McEachin has lectured throughout the world and co-authored numerous books and research articles. He consults regularly to families, agencies, and school districts, assisting in the development of treatment programs and providing training to parents, group home staff, and classroom personnel.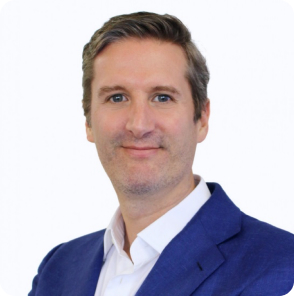 Mr. Toby Mountjoy is a Board Certified Behavior Analyst and holds a Master of Science in Applied Behavior Analysis. With over 25 years of experience working with individuals with ASD, he has been extensively trained by Dr. Ronald Leaf, Dr. Mitchell Taubman and Dr. John McEachin. Besides overseeing the Autism Partnership operation in Hong Kong, Korea, Philippines, Singapore, Kuwait and Beijing, with over 500 staff, including psychologists, consultants and therapists, he has also provided consultations to school districts, agencies, and families worldwide. Mr. Mountjoy has also contributed chapters to publications such as "Sense & Nonsense" and "It's Time for School". In 2007, he founded the charitable Autism Partnership Foundation and AP School to offer more services for children with Autism.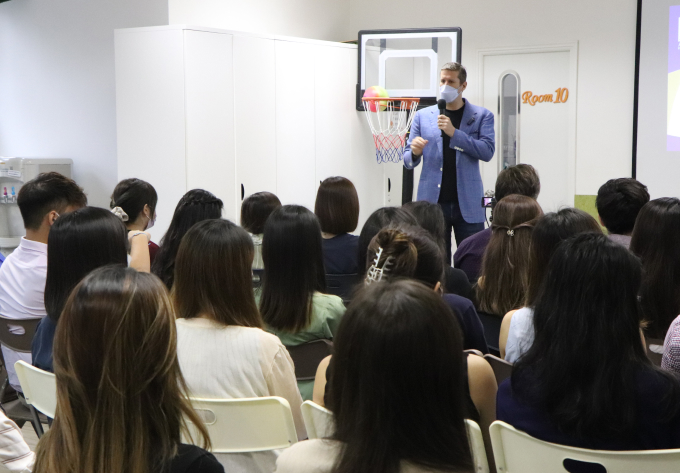 Our Consultants are HIGHLY QUALIFIED & EXPERIENCED
Our team of consultants are comprised of doctorate and master degree holders, clinical psychologists and Board Certified Behavior Analysts (BCBAs) with many years of experience in planning and implementing Intensive Behavioral Treatment.
What is Certified Progressive Behavior Analyst – Autism Professional™ (CPBA-AP) Credential
An accredited certification for evaluating if a professional meets the highest standards in demonstrating proficiency in the content of a progressive approach to ABA as it relates to individuals diagnosed with ASD.
This certification program is designed for professionals with a minimum of 10,000 hours (approximately 5 years full-time) experience in ABA with concentration in autism.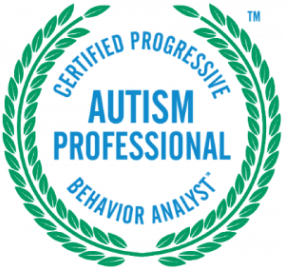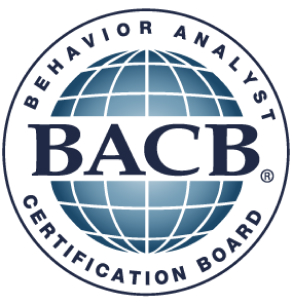 BCBA stands for "Board Certified Behavior Analyst". A board certified behavior analyst is certified through the Behavior Analyst Certification Board®. There are three distinctions for certified behavior analysts: BCaBA, BCBA, BCBA-D.
All certified behavior analysts have completed coursework specific to behavior analysis, completed required supervised field work experience, and passed a board exam. BCBAs are required to hold a minimum of a master's degree in their field.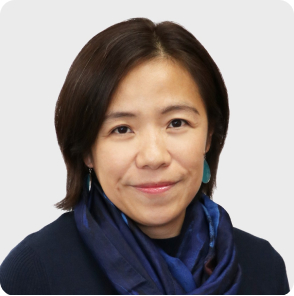 Dr. Angel Au is a Registered Clinical Psychologist of Hong Kong Psychological Society and has undergone doctoral training in Clinical Psychology. She has received extensive training and on-going supervision from Dr. B. J. Freeman, a world-renowned diagnostician in Autism Spectrum Disorder. After completing the Clinical Training of Autism Diagnostic and Observation Schedule (ADOS) in 2003, which is a well-regarded as gold standard in diagnosing ASD, Dr. Au has also completed the ADOS Advanced Research training, from the University of Michigan Autism and Communication Disorders Centre in 2011. Her doctoral thesis was on early identification of the more able children with ASD in mainstream preschool settings. She specializes in assessing individuals on the milder end of the spectrum and has more than 14 years of experience in diagnosing individuals from toddlerhood to middle-age adults. Other than ASD, Dr. Au also assesses a wide array of individuals with different diagnosis, including Attention Deficit / Hyperactive Disorders, Global Developmental Delay and individuals with various behavioral challenges.
Under the direct supervision and training of Dr. Ronald Leaf and Dr. Mitch Taubman, Dr. Au started providing Applied Behavior Analysis therapy for individuals with ASD since 1996. Other than seeing cases locally, she has also provided overseas consultations in China, India, Japan, Malaysia and Singapore. Applying her many years of experience in helping children with ASD, Dr. Au also specializes in providing psychotherapy and social skills training for adolescents and adults with ASD and other behaviorally challenged conditions.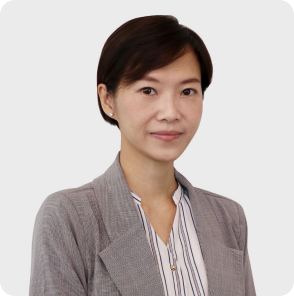 Ms. Lai-Kan Wong is a Certified Progressive Behavior Analyst (Autism Professional), a Board Certified Behavior Analyst, and holds a Master of Science in Applied Behavior Analysis. She embarked on her journey with Autism Partnership in 2001. Over the years, she has gained extensive experience working with children across different settings, including individual therapy sessions, small group training, and ABA classrooms. Ms. Wong is now responsible for overseeing Autism Partnership centers in Hong Kong, Beijing, and Shanghai, and she provides clinical support to consultants in different offices.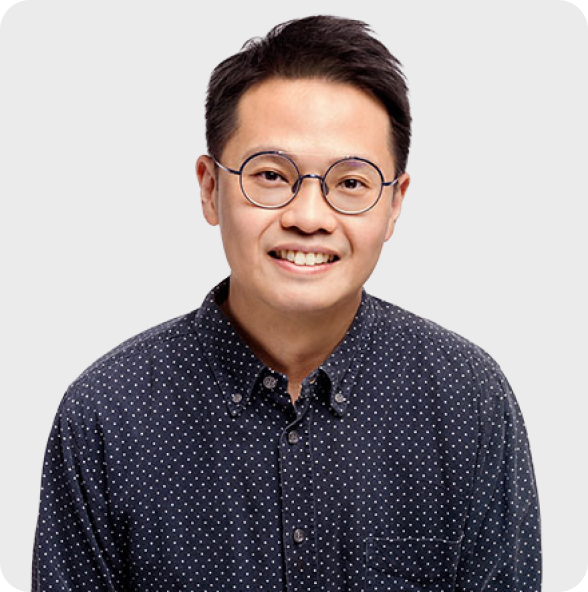 Dr. Raymond Fung holds a Doctor of Education from the University of Bristol, a Master of Science in Applied Behavior Analysis from St. Cloud State University. His doctoral thesis explored Progressive ABA, Autism and Technology. He is a Board Certified Behavior Analyst (BCBA) who has been teaching individuals with autism and training professionals for over 20 years.
Dr. Raymond Fung has been receiving ongoing training from Dr. Ron Leaf, Dr. John McEachin and their associates since he joined Autism Partnership (AP) Hong Kong in 2000. Since 2005, he has trained more than 500 behavioral therapists internationally. In 2007, he participated in the curriculum development for AP School, the first and only primary school for autistic students in Hong Kong. In 2014, he developed 6 mobile applications for individuals with autism. In 2016, he created a school-based social skill program for local secondary students. In 2018, he hosted a radio program on RTHK with a group of adults with high functioning autism. Currently, he is the training director of AP Hong Kong, and the voluntary consultant of AP Foundation. In 2023, he published his book "Teaching Children with Autism". He consults in China, Singapore, Japan, Malaysia, Philippines, Korea, South Africa, and Russia. Previously, he was the clinical director of 2 AP international offices, the conference chair of Hong Kong Association for Behaivor Analysis, and a part-time lecturer of a master program in autism in Hong Kong Metropolitan University.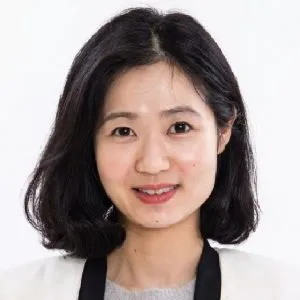 Dr. Yvonne Cheung is a Board Certified Behavior Analyst (BCBA). She has a Master's degree in Applied Behavior Analysis (St Cloud State University), and a Doctoral degree in Education (The University of Bristol).
Yvonne joined Autism Partnership in 2003. She has extensive experience educating children, teenagers, and adults with autism. She had worked as a Behavioral Consultant at AP School since 2017. She is experienced in supervising cases and classrooms, designing individualized education programs, and providing teacher and parent training. She has also helped many students to adapt to local mainstream and international schools.
Yvonne had experience providing school consultations, parent and teacher training, and presenting about effective teaching strategies in Singapore, China, United Arab Emirates, and Russia.
Currently, Yvonne is a Behavioral Consultant for Autism Partnership and the Director of Research for Autism Partnership Foundation.
Staff Training and On-going Staff Support is Integral to APM
AP is devoted to training our staff to become a dedicated group of empathetic and compassionate clinicians who provide quality APM treatment. Our goal is to create positive, life-long changes for children with ASD and their families.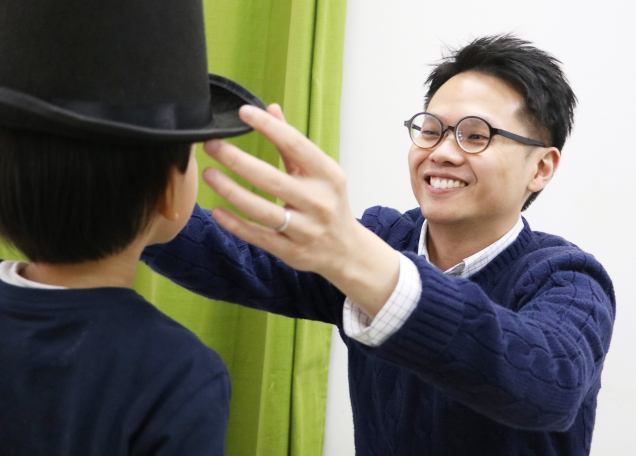 A Team of EMPATHETIC AND COMPASSIONATE Clinicians
Our frontline staff /Therapists plays a key role in the success of our agency. They work with our families and children in one-on-one, group and school settings, and carry out program goals as identified by our Supervisors and Consultants.
All our therapists must go through a 4-month (approximately 600 hours) pre-service didactic and practicum training before they can provide direct line therapy for our families. They will then receive intensive and ongoing training for about 200 hours every year thereafter by local and overseas experts in the field.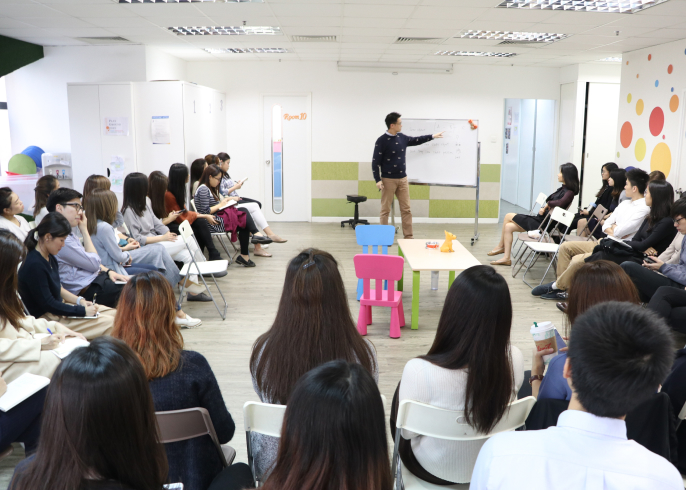 Training Academy - 4 Months Pre-service Intensive Training and Orientation
AP is the only agency in Hong Kong that provides an extensive in-house APM training program. All new therapists must go through a 4-month (approximately 600 hours) pre-service didactic and practicum training before they can provide direct line therapy for our clients. Training and orientation are in the form of lectures, case studies, role-play, case observations, and practical hands-on sessions closely monitored by our Consultants.
Our therapists receive over 600 hours of induction training and 1:1 supervision by our Supervisors and Consultants in their first year on the job. Thereafter, staffs continue to receive over 200 hours of supervision per year with weekly supervisions, regular clinics and team meetings specific to the child they are working with. Weekly supervisions allow us to monitor and evaluate the quality of our services, and track progress of our students.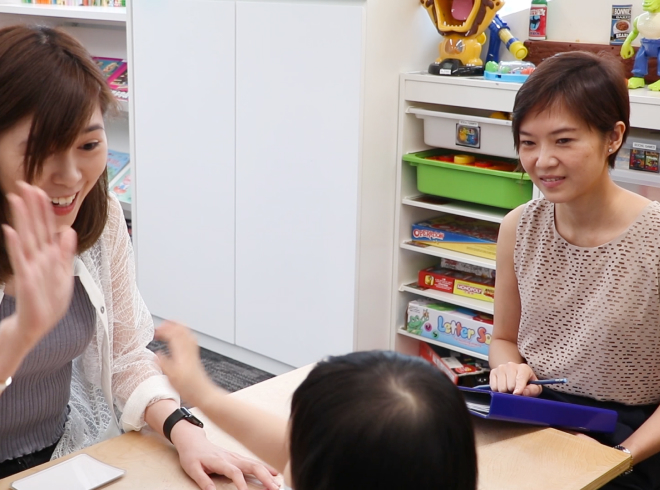 All therapists are required to attend monthly training sessions to further their knowledge and enhance skills. On-the-job trainings are both didactic and practical, consisting of lectures, case studies, videos, evaluations, and role-play.
Our therapists are formally evaluated through supervision and review meetings with the Consultants on an ongoing basis. Evaluations are based on therapists' practical skills, programming skills, work attitude, communication skills, organization skills as well as professionalism and leadership skills.