One thing that parents and teachers of children with autism spectrum disorder are concerned about is their child's social skills. Hoping that their children will play nicely with peers, some common skills that therapists and teachers usually target at the beginning are turn taking or sharing. However, at AP, we believe that developing social interest towards peers is fundamental, and should be developed before other skills. Therefore, during our therapy, we spend a lot of time developing activities that build social interest.
Now, I will give you some ideas on how to develop a child's interest in their peers.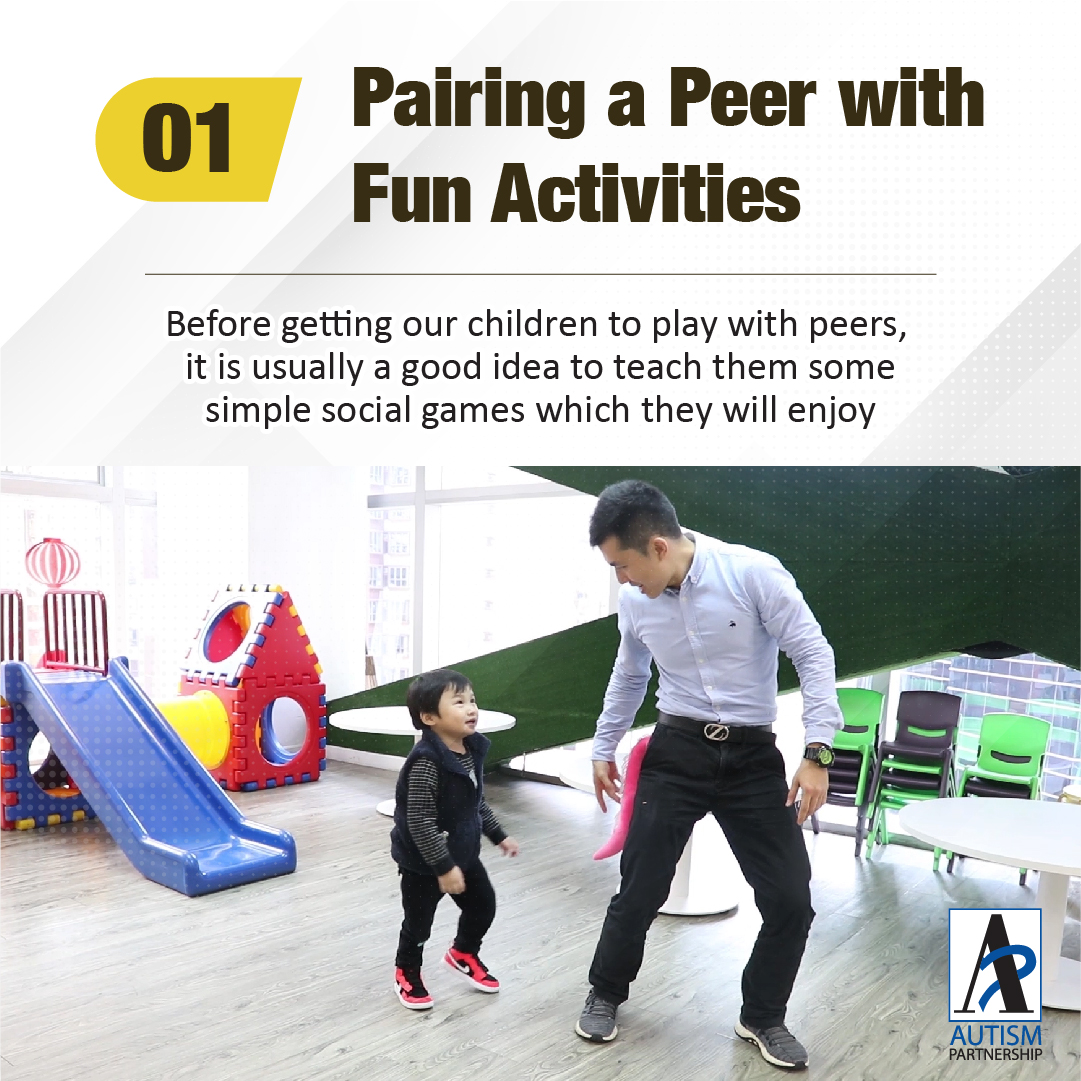 1. Pairing a peer with fun activities.
Before getting our children to play with peers, it is usually a good idea to teach them some simple social games which they will enjoy, such as Green Light, Red Light or chase the tail. Children usually like these games, as it requires minimal verbal skills and it involves physical movements, which children usually like. After teaching them these games and the interest in the games has been developed, we can then ask our children to play the game with their peers. When we provide more chances to let our students play the fun games, they will gradually develop more positive experiences with peers, so their interest in peers will then be higher. When their interest is high, it gives us opportunities to develop other social skills such as inviting peers to play or responding to peers' invitations.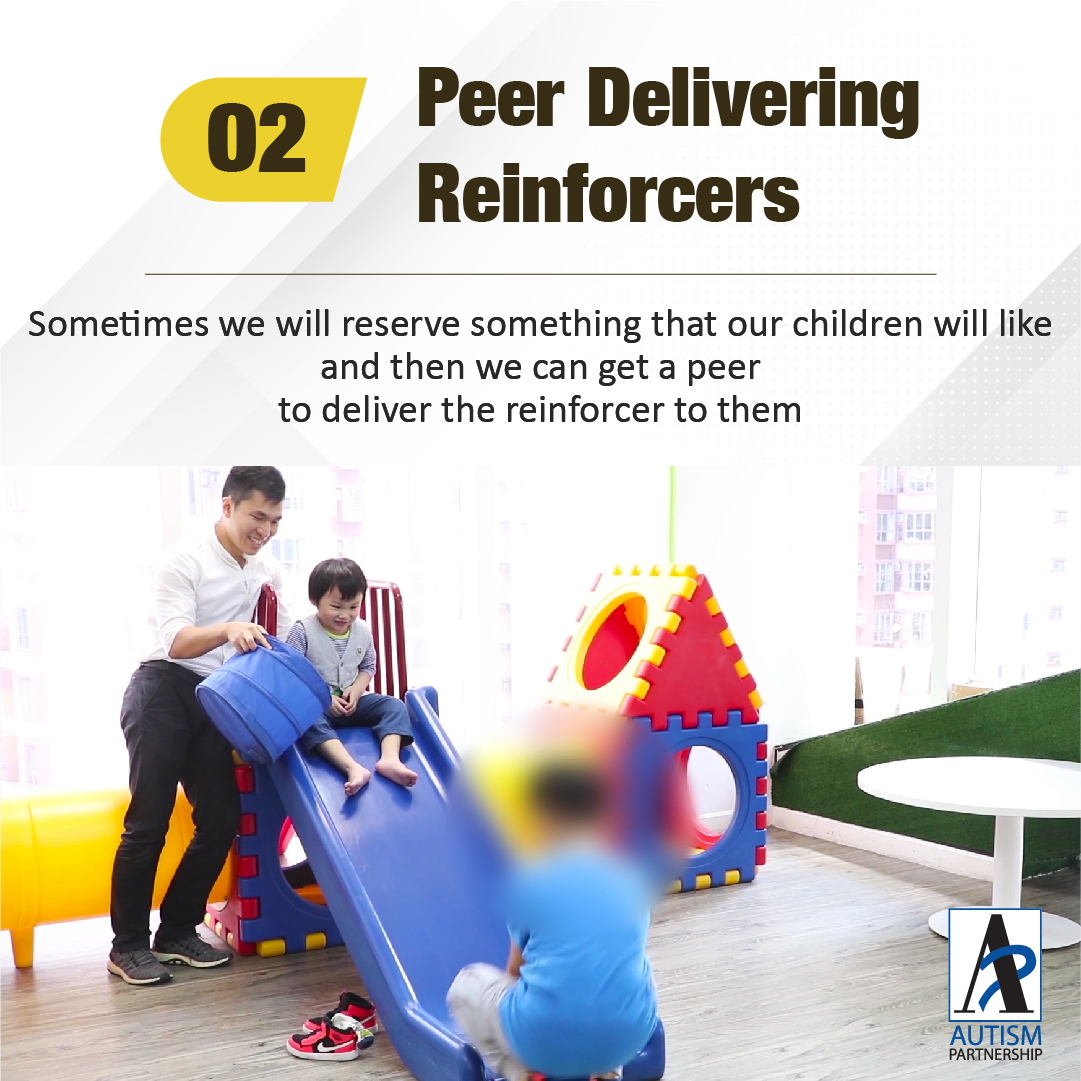 2. Peer delivering reinforcers.
Sometimes we will reserve something that our children will like and then we can get a peer to deliver the reinforcer to them. For example, a child may like to play with cars a lot. We can get a peer to pass the child a car that he likes or give him a treat at different time. This pairing process also allows our students to develop positive associations with their peers. This process can also increase their social awareness, as they will now notice that their peers are coming to give them something great!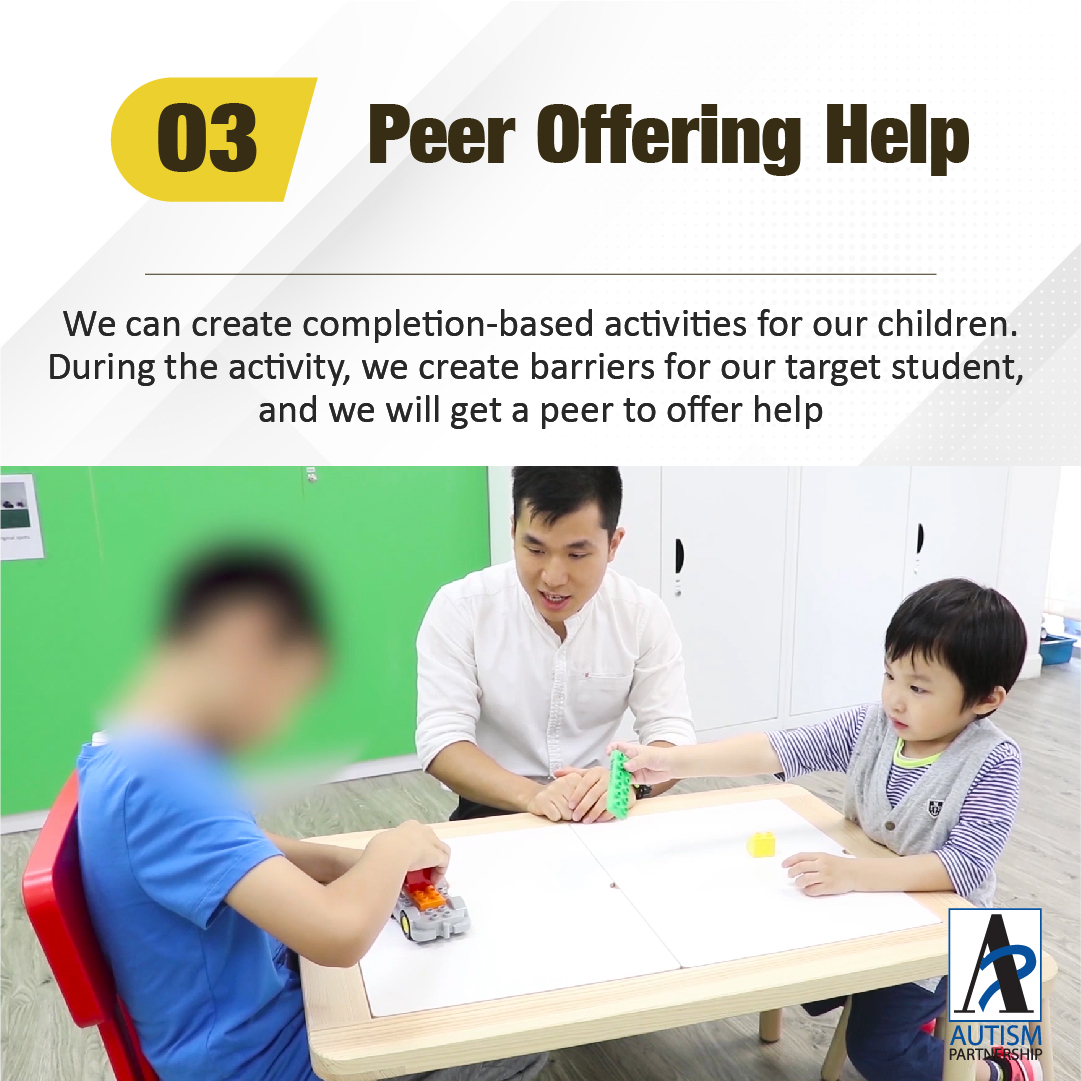 3. Peer offering help.
If you had someone who always helped you, will you like that person more? The same dynamic applies to our students. We can create completion-based activities for our children. However, during the activity, we create barriers for our target student, and we will get a peer to offer help, so our target student can complete the activities and get the reward together with his peer. For example, some of our do well with numbers and/or letters. We can develop a quiz game for our students so they can help each other answer the questions.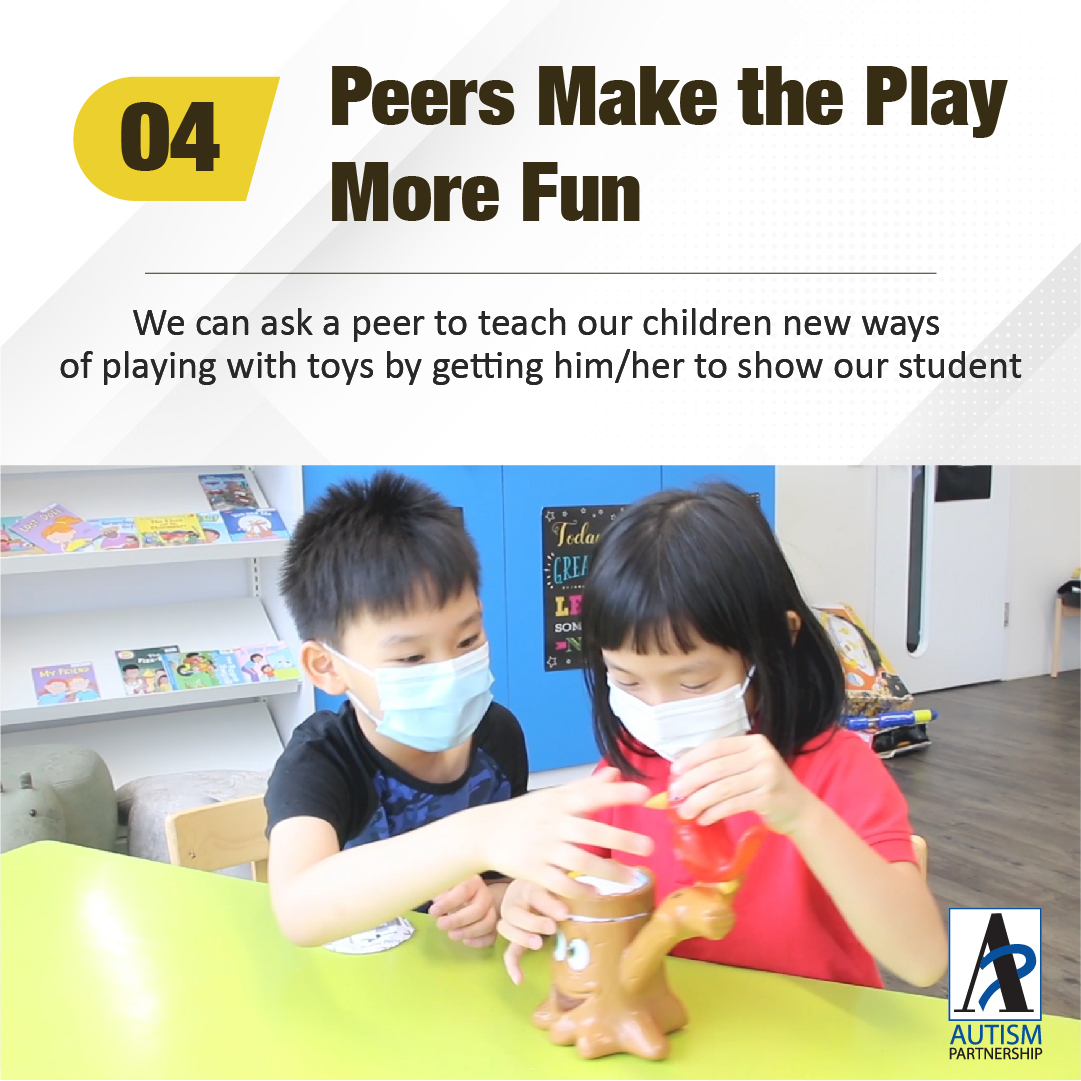 4. Peers make the play more fun.
We can ask a peer to teach our children new ways of playing with toys by getting him/her to show our student. Again, this process allows our students to develop positive associations with the peers.
5. Peer rescues the student.
We can get our target student to do an unpreferred task or activity, and then we can ask a peer to invite the target student for a fun activity. We will highlight that, since his friend is coming to play with him, he can now take a break from the unpreferred task or activity.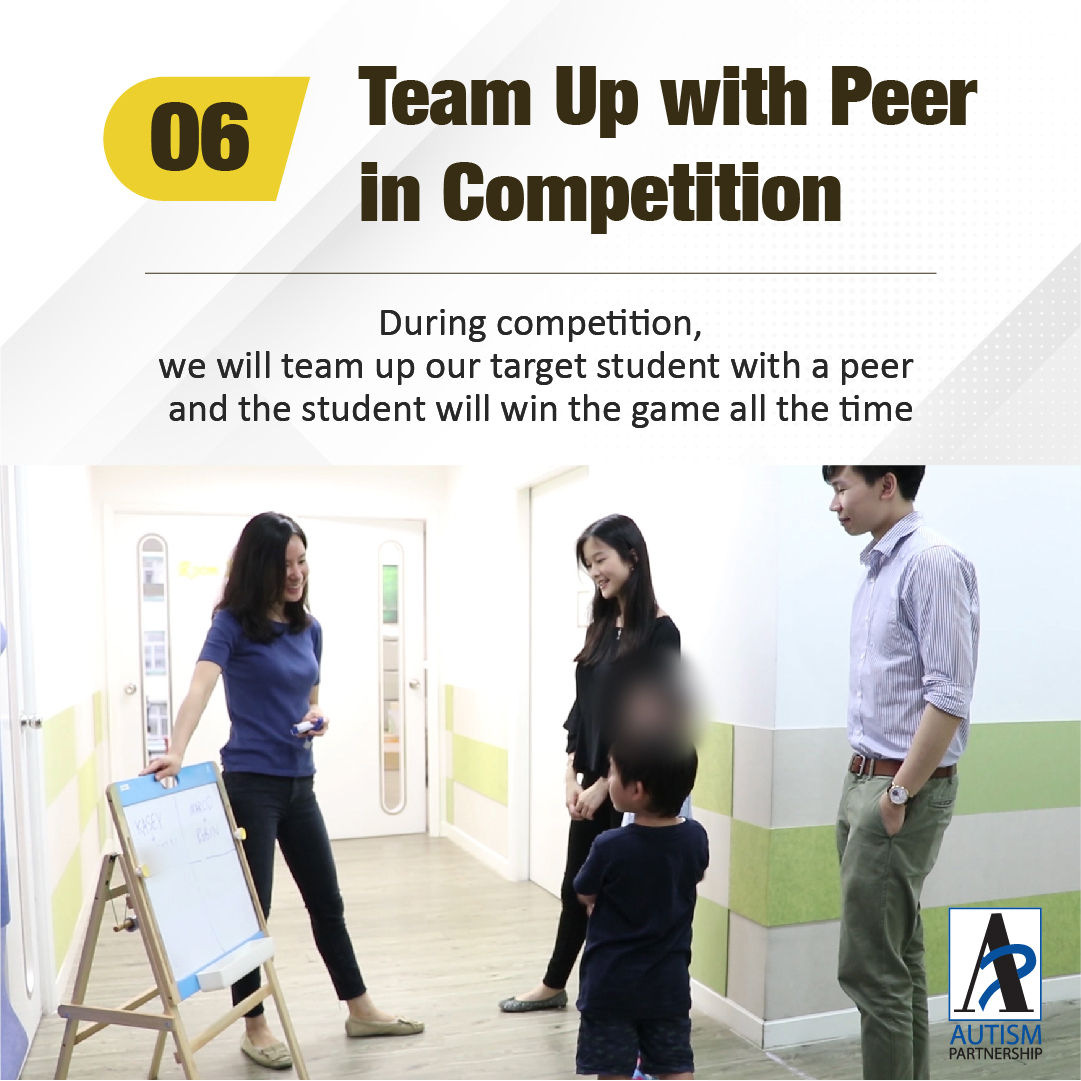 6. Team up w peer in competition.
During competition, we will team up our target student with a peer and the student will win the game all the time when he teams up with a peer rather than with a teacher or adult.
As you can see, the basic principle is to develop a lot of ways to allow the pairing of peers and good consequences. Pairing is a technique that we use frequently to develop the interest of our students to their peers. You may also create other activities based on this idea!