Autism Partnership Foundation is proud to announce the opening of our new center "APF Parents Resources Centre" was held on 29 August 2016:
Address:
Unit 1103, 11/F, Sun Cheong Industrial Building,
1 Cheung Shun Street, Lai Chi Kok, Kowloon
(one-minute walking distance from Exit A of Lai Chi Kok MTR station)
Tel:
3583 0668
Fax:
3583 0443
Office Hour:
8:30am to 6:00pm (lunch break: 12:30pm-1:30pm)
The new Center premise allows more facilities and rooms for our ABA services. Apart from providing intensive ABA treatments for the children with ASD, we will organize more parents training and workshops in our new Centre, providing aid and training assistance for parents and caregivers.
In addition, we have established a new organization logo to better reflect our branding and the core values of our organization. The characters "A", "P" and "F" on our new logo not only reflect the name of our organization name (Autism Partnership Foundation), but also represent our uniqueness and core values: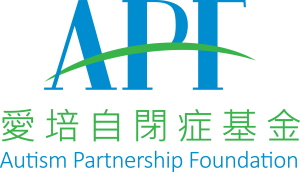 A = ABA
P = Professionalism
F = Family – we work for the well-being of families
Green Curve = All stakeholders: connecting "A", "P" and "F" together to form our organization
In the year of 2016, we have achieved several exciting milestones. We have established several free services, one being the one-month intensive ABA treatment at free cost; we have also set up our new Centre and new logo. APF is moving forward to serve more children with ASD and their families. We greatly appreciate your continued support and we look forward to welcoming you to our new Centre.
To learn more about APF, please visit the APF website.